Carwash - the sequel Newlyn style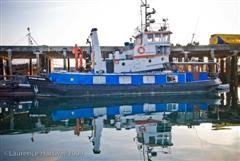 CELEBRITY actor Timothy Spall is urging Cornishman readers to join him in supporting the RNLI in Newlyn on its biggest fund-raising event of the year.

The actor, known for his roles as Peter Pettigrew in the Harry Potter series of movies and Barry Taylor in Auf Wiedersehen Pet, was in Newlyn harbour last September for a week.

During his stay in the port, the Spalls were taken onboard a Penlee relief lifeboat to see some of the hazardous locations. He said: "Earlier this year I met the crew of the Penlee lifeboat, and was lucky enough to go out with them on the lifeboat. It will remain a memory I will never forget, particularly because the exhilaration of the experience was made all the more profound by the realisation that the brave and skilful crew's fundamental desire is the safety of anybody who takes to the sea. What is even more impressive is that the men and women who crew the lifeboats around our coasts are prepared to risk their own lives to save the lives of others, in truly treacherous conditions. SOS Day is the RNLI's biggest fund-raising day of the year and it's a great way to get 2010 off to a cracking start, while helping to save lives at sea."

The Penlee Lifeboat crew will be washing cars and serving bacon rolls at the inshore lifeboat house this Saturday and Sunday and next weekend from 10am to 3pm.

They will also be celebrating SOS Day on Friday, January 29, as part of a number of events across the country.

● The world's most advanced lifeboat will also be on show at Sennen Cove later this month following its journey from London.

There will be an open day on Sunday, January 31, between 11am and 4pm, when people will have the opportunity to look around the new £2.7 million Tamar class lifeboat, the City of London III - seen in the video below on her maiden trip to say thank you London for the massive fund raising effort that resulted in its purchase.

article copyright THE CORNISHMAN