Nova Spero - the legend that is 'Wordsy'!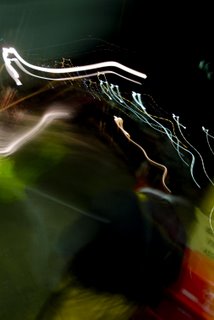 Alongside the fishmarket, on an an otherwise quiet night, the peaceful scene disturbed with a flurry of activity which the camera barely captures, but who is responsible?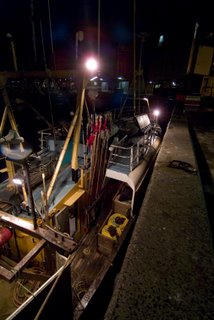 The vessel concerned, a gill-netter, is in for a landing half way through the tide.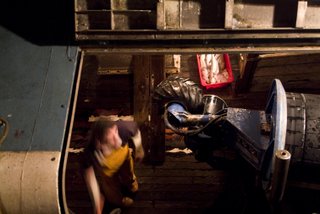 Under the

shelterdeck

the camera struggles to capture a constantly moving figure....
Then, pausing just long enough, a familiar face is captured on film!


CV - From school, crewed with '

Janner

' for a few years on the 'Boy Gary', then joint owner of the

'Galleach

Millich

' with good friend Shane

Liddicoat

' (now skipper of the '

Terrifier

',

CSF

protection vessel), then skipper/owner of the 'Bonny Mary' (

KimBill

), then '

Crimond

II' and now the 'Nova

Spero

'
- one Shaun Edwards, better known as '

Wordsy

'.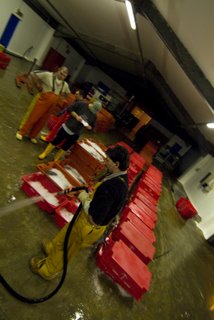 Meanwhile, as

Wordsy

washes down the market floor - Carla's Dad looks on....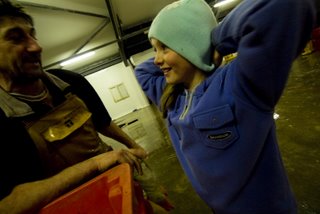 In the presence her Dad's legendary skipper, it seems she can only look on in awe and hang on his every word!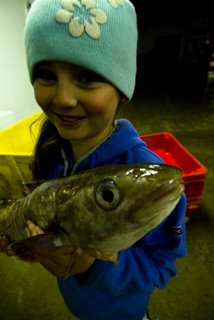 Carla proudly takes the opportunity to show off one of the catch!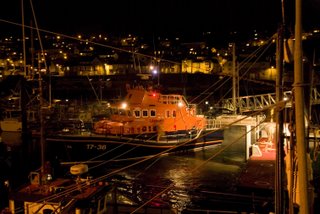 Minutes

later the 'Ivan Ellen' is off on a shout.