St Piran's day.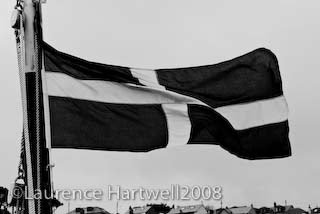 Click on the Cornish flag above to see a selection of images in celebration of St Piran's day.

The Cornish tin mining industry had numerous days to celebrate throughout the year - most of which seemed to involve the imbibing of huge amounts of alcohol - so much so that in the 19th century the phrase, 'drunk as a Perraner' was used to describe someone who appeared to have had more than they should.
Today, St Piran's day is often celebrated with the use of the colours found in the St Pirans' flag of black and white - also identical to the Bretons', 'gwen ar dhu'. Gold in the images represents the wealth and prosperity that tin brought to Cornwall - at one time the area around Camborne and Redruth was home to more millionaires per square mile than any other place in the world!